The church is not to blame; society is morally and ethically bankrupt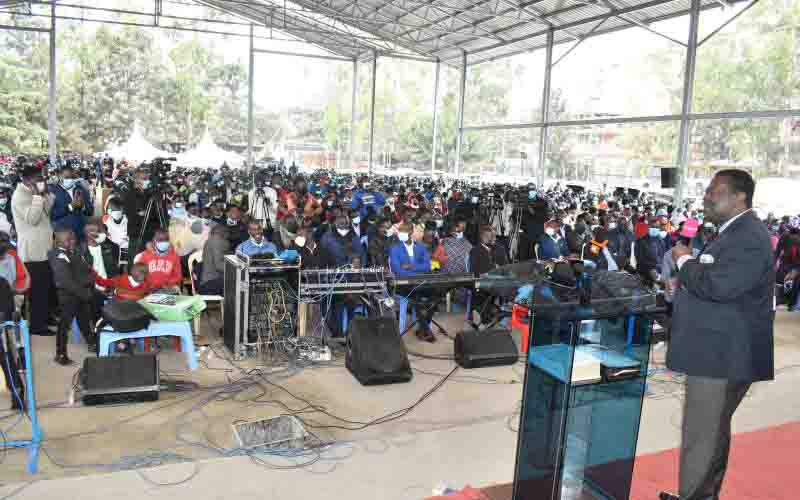 An unattributed anecdote tells what would happen if all the money in the world were distributed equally to every human being. During the first hour, many would have invested their money wisely while some would have bet it. Still others are said to have doubled their income through various trade-related activities even as their friends fall victim to scams. At the end of the first day of buy and sell, loss and gain, income patterns would be more or less similar to what they were before the distribution.
Mama Ida Odinga's recent Freudian slip revealed growing exasperation with the church. In few words, she called for regulation of the institution, blaming it for taking advantage of unhappy worshipers and exploiting them for financial and other gain. Yet it seems from the anecdote above that cheat games are not the preserve of the church. The world will always have its fair share of crooks and gullible people. American showman PT Barnum put it succinctly when he said "there's a sucker born every minute".
There is no doubt that the Kenyan church is but a pale shadow of its fearless and fiery former self. Instead of pointing the finger at society's excesses, especially prevalent in the political class, he became their consort in exchange for dirty profit so that it would seem the church had lost its soul.
But it's not the only one. In fact, abstracting the causes of deviant behavior from the moral rot and plague of society to the failure of the church is a way of covering up the insidious erosion of its mores and conventions. With or without the church, society is morally and ethically bankrupt!
It seems that Kenyans have given in to base human instincts so that what was abhorrent a few years ago is now acceptable. Values ​​such as integrity and the ethic of hard work have given way to swindling, the outright theft of public and private resources, and anything that advances one at the expense of another.
Otherwise, how would convicted felons and prison breakers end up in key leadership positions? How to explain elected officials with dubious or non-existent university degrees? When did membership in the "right" tribe or family replace meritocracy as a prerequisite for public appointments? Why has Chapter 6 of the Constitution, which deals with integrity, become a mere suggestion to be overlooked or outright ignored?
According to Professor Joseph Paul Forgas of UNSW, education tends to reduce gullibility. write in The conversation, he says, "Those who receive training in critical and skeptical thinking tend to be less gullible and less easily manipulated." That's why it's worrying that we feel like we have an education system that is dumping its stakeholders, rushing in with reforms that make little sense. It ignores protests from teachers' unions which have raised concerns, some of which include "inadequate capacity of teaching staff".
Questions arise; Does citizen gullibility have its roots in the education system that teaches indiscriminate obsequiousness to authority figures? Have Kenyans been so stupid they can't make informed choices? Admittedly, bad choices have resulted in election results every five years where undeserving figures rise to leadership positions. How different should we expect it to be in churches, mosques, temples, membership clubs and other social organizations?
The government may regulate until Kingdom Come, but as long as the system renders many illiterate citizens functional, scams will continue to thrive. As long as societal conventions are deliberately eroded, there will be no qualms about entertaining fraudsters and charlatans within the hallowed grounds of the Kenyan church.
The situation in places of worship is only symptomatic of the fetid rot that is Kenyan society. The church is not to blame per se. Calls for regulation are like putting a band-aid on a gushing ulcer. Long-term interventions are needed. The first of these is to fix the education system once and for all.
Leonard Khafafa is a public policy analyst