Students from the Muslim University and a civil society group from Rakhine participated in the Eid festival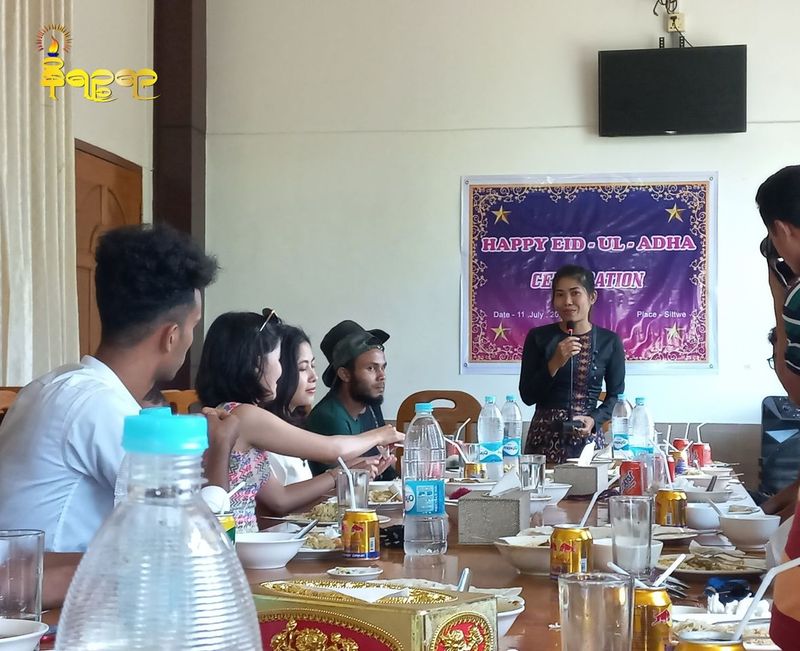 Narinjara News, July 13, 2022
Eid-ul-Fitr (Kurbani Eid) was recently celebrated by Muslim University students and Rakhine civil society group gathered in Sittwe, the capital of Arakan (Rakhine) State.
The very first event was organized at 3 p.m. on July 11 at the SS restaurant in Sittwe by a group of Muslim students and delegates from Rakhine youth and student organizations and Rakhine tribesmen, representatives of NGOs were present on the occasion.
The occasion was significant as it was the first time the religious festival had been joined by Muslim and Buddhist nationals.
The brotherly relationship was perfect and would help Rakhine State in the future, said Ko Zaw Min Tun, a Muslim student involved in the program.
"I am very happy with the understanding and mutual respect shown by the Rakhine people," he added.
Zaw Min Tun also affirmed that the Eid holiday will help in achieving harmony among communities in the state.
The 2012 sectarian clashes in Rakhine State completely disrupted communication between Muslims and Rakhine and eventually they became enemies.
Their relationship has improved since the Arakan Army (AA) took over much of the Rakhine regions and attempted to rebuild it between Muslims and Rakhine.
Ko Lwin Myint, Vice President of the University of Computer Science (Sittwe) Student Union, said representatives of various organizations, who attended the Eid festival, welcomed the initiative.
In his message, he called on the people to unite as bloodshed will not solve any problem in Rakhine State.
"Hopefully we can move forward with a positive approach. It's good to see the positive development," he added.
Manawkia, a Muslim student who also attended the event, commented, "It's nice to see the development. I expect more such events in Rakhine State.
Student unions representing various universities in Sittwe, All Arakan Youth Association, Basic Students Union, Women Generation, Pichaung Institute, Kaman along with other tribal outfits attended the ceremony. All participants were treated with traditional Muslim snacks.