Makkalisai takes the stage during this musical season Margazhi | Tamil movie news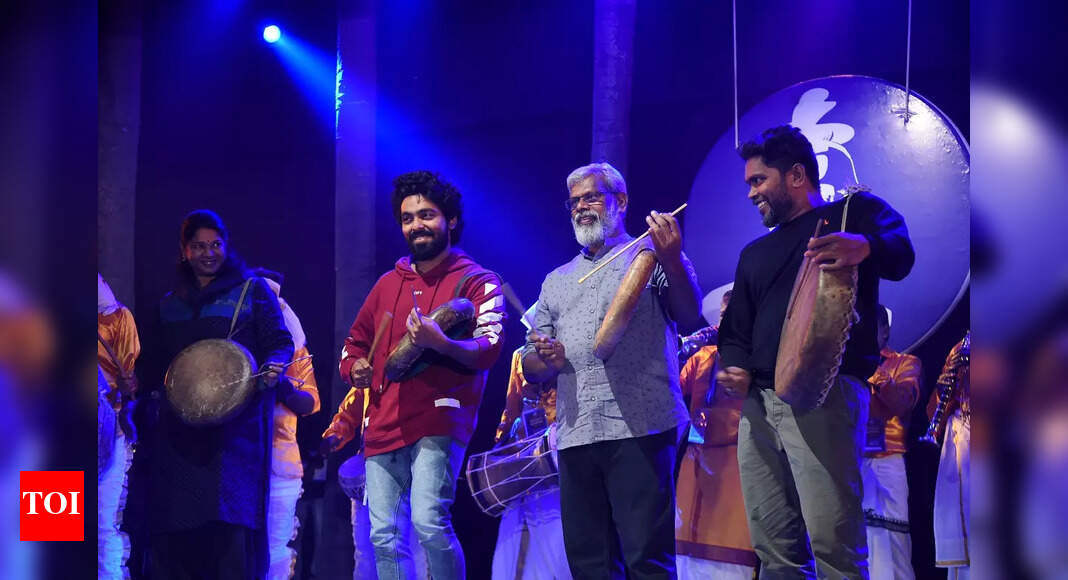 For many years, Margazhi was mainly interested in Carnatic music. But now the December music season is starting to get even more vibrant with Margazhiyil Makkalisai, a festival that provides a platform for folk and street musicians, returning for the second year.
With thundering parai beats, the second edition of Margazhiyil Makkalisai 2021 by the Neelam Cultural Center, directed by director Pa Ranjith, has started in Chennai. The event, which spans 10 days in three cities, will see the participation of more than 700 artists, who will perform kuralisai, gaana, oppari and rap with different types of instruments. The festival, which aims to bring ingrained art forms to the people, will run until December 31.

"The support we received from people last year has kept the festival going this year. We are confident that he will also be successful this season. We are giving a stage to many artists who do not have the opportunity. This year we are focusing on staging many tribal groups like Todar, Irular, Kaanikkar, Adhiya Pazhangudi, Kudukuduppaikaran, etc. We want to identify and bring on stage the artists who were performing in the street, "explains JK Jayakumar, a Parai musician, who also performed yesterday.

The event in Chennai started with the main guests – music director GV Prakash, writer Aadhavan Dheetchanya, poet and politician Kanimozhi – as well as Pa Ranjith playing parai with the artists on stage.

"Makkalisai is about our way of life and not something outside of life. He talks about our pain and our challenges in the art form. Capturing every emotion, Makkalisai makes sure to note that life is a party, "says Kanimozhi.
Ranjith says, "Our music has international value, but we don't see it. Our ancestors did not even realize that they were artists. We did not recognize them as such either. Now we need to take art and artists to the next level. This is our goal.
This year, for the first time, the event also took place in Madurai and Coimbatore. They also record the events and plan to broadcast them later on a streaming platform. In Chennai, the event will take place for eight days in different sabhas. "It was the first time that we had been leading in cities other than Chennai, so it was open to everyone. And we had an enthusiastic reception, with 3,500 people in Madurai and over 2,000 in Coimbatore, "said rapper Therukural Arivu. "We are recording the event to identify the arts and artists, so that we can show it to the world as a kind of documentary and get them the recognition they deserve," adds Arivu, who will perform on the last day of the event. , on New Year's Eve.
The Chennai event had performances by the Salem Adimela Parai Isai team, which had nine artists dancing to parai rhythms from other musicians, and was followed by the interpretation of folk songs by Karunkuyil Ganesan Isai Kuzhu and s 'ended with a performance by popular singers Rajalakshmi and Senthilkumar.
Karunguyil Ganesan, who has performed for over 30 years, says: "Folk singers and musicians are suffering a lot and the art form is dying. I see this as an attempt to save these arts from their slow death. Ganesan's songs, which covered a range of topics from birth, livelihood, love, and caste, were all written by him. "I worked in a government cooperative bank and left it to pursue my artistic instincts. Today, artists and art forms are in free fall. We used to manage to play for at least six months, but after COVID that has changed as well. I see this more as an opportunity for artists to survive than as a service to art, "he adds.
"Usually folk singers don't have a changing room anywhere. I myself changed in the streets before the performance. It's nice to have a green room to prepare for. It's a big change, "says Rajalakshmi.