Get ready to dance at BU's annual Global Music Festival | UB today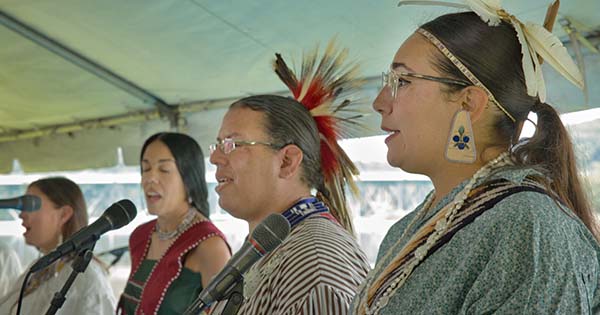 The fifth annual BU Global Music Festival, scheduled for Saturday, September 17, features wildly different performers, from the can't-stop-the-rhythm champeta of the Bazurto All-Stars of Bogota, Colombia, to the Native American songs of the Singers and local Kingfisher dancers.
"We have some high-energy powerhouses that can really party," says artistic director Marié Abe, as well as folk artists who explore their traditional cultures and some who breathe new sounds into the old.
Abe, associate professor of music, musicology and ethnomusicology at the College of Fine Arts, says these powerhouses are led by the festival's closing act, the Bazurto All-Stars, three-time winners of one of the most major Latin American carnivals. Their 8:30 p.m. set is not to be missed.
"It's part of our job to make people dance," says singer Fredy Harel. "Even though the songs are sad songs, they still have a dance vibe."
Bazurto All-Stars and most other artists make their Boston debut at the free festival, which runs from noon to 9:20 p.m., is open to the public and free for all ages. Register here or when you arrive. The event takes place on the Warren Alpert Mall (aka BU Beach), the large open space behind Marsh Chapel (rainy location: Tsai Performance Center). Several groups will also lead workshops. The music is accompanied by a global bazaar offering art, clothing and other items, as well as food and drinks (non-alcoholic).
Champeta is a musical style, says Harel, but more than that, "it's a vibe, a cultural movement" that began among the Afro-Colombian population in Cartagena, Colombia.
The word originally meant some type of large knife, and eventually "champetuo" came to mean a classless person, meant for black Colombians, descendants of enslaved Africans, by the more prosperous Hispanic population. It is a race and class dynamic that Harel compares to similar movements in Jamaica and Brazil, among others, which also produced unique art and culture.
"Champeta is basically a mix of different genres generated here in the Caribbean that we inherited from the Africans who came here," says Harel. There is reggae, dancehall, soca, and above all, genres from the Congo. Much of it arrived first in Cartagena, which is a major international port; It is no coincidence that many of these songs were first heard by people who used these large knives in markets where imported goods were on sale. Champeta fills the air with Bazurto, the city's public market.
Over the decades, at outdoor parties and carnivals, the styles braided and mutated until arriving at its present form, where the songs end with a long section called the despeluque (meaning chaos, or disorder, in English) when the rhythm gets heavier and takes over.
"Each champeta has two parts, the beginning with the melodic part and the chorus, then the despeluque, when everyone is dancing and the singer starts rapping," says Harel. "Every champeta has to have those two things. If it doesn't, it's not a champeta. In recent years he has evolved into champeta urbana, leaning even more towards electronic rhythms and urban sounds.
Champeta has a distinct way of speaking, walking, dancing and expressing himself, and his own slang, he says, as well as his own style of music. "A lot of people wouldn't think champeta is political, but I see it as a political thing. I see it as a means of resistance and resilience on the part of the black population. A few years ago, people tried to ban champeta from radio and public events," says Harel.
"These days, the champeta has become a fashionable thing. It's nice to be a champeta now, and you see people from wealthy neighborhoods enjoying champeta," he says. "It's a good thing that the champeta is entering these spaces it wasn't used to. But at the same time it's conflicting. Now it's a good thing because it's fashionable, while "Before it wasn't a good thing because it was black and poor. It's kind of a double standard. But we're making progress."
Besides the Bazurto All-Stars, who perform original songs as well as a bubbly cover of Paul Simon's "I Know What I Know," energetic bands include Son Rompe Pera, from Mexico, led by the Gama brothers, and the duo Madalitso from Malawi.
His Rompe Pera "mixes a very masculine punk power with marimba music, which isn't what most people know from Mexican music," says Abe. "It's always good for people to have their assumptions challenged about what music from a particular place sounds like.
"We try to represent a wide range of approaches from global musical artists that we bring in," she says. "We don't want people to think that world music is traditional folk music. A lot of people are mixing/infusing/experimenting music from their own heritage. Some grew up with it and some of them came to their music later. [Son Rompe Pera] I grew up as punk kids and then realized, "We have this amazing music, marimba music."
Madalitso, a duo of street musicians from Malawi, use homemade acoustic instruments, partly because they don't always have access to electricity, "but they make people dance!" says Abe.
The festival is also rich in traditional vernacular music, including the work of the Saung Budaya dance troupe, offering choreographed performances rooted in different islands of the Indonesian archipelago, and Israel's Yamma Ensemble, presenting Hebrew music. origin of the Jewish diasporas across the Mediterranean and the Middle East.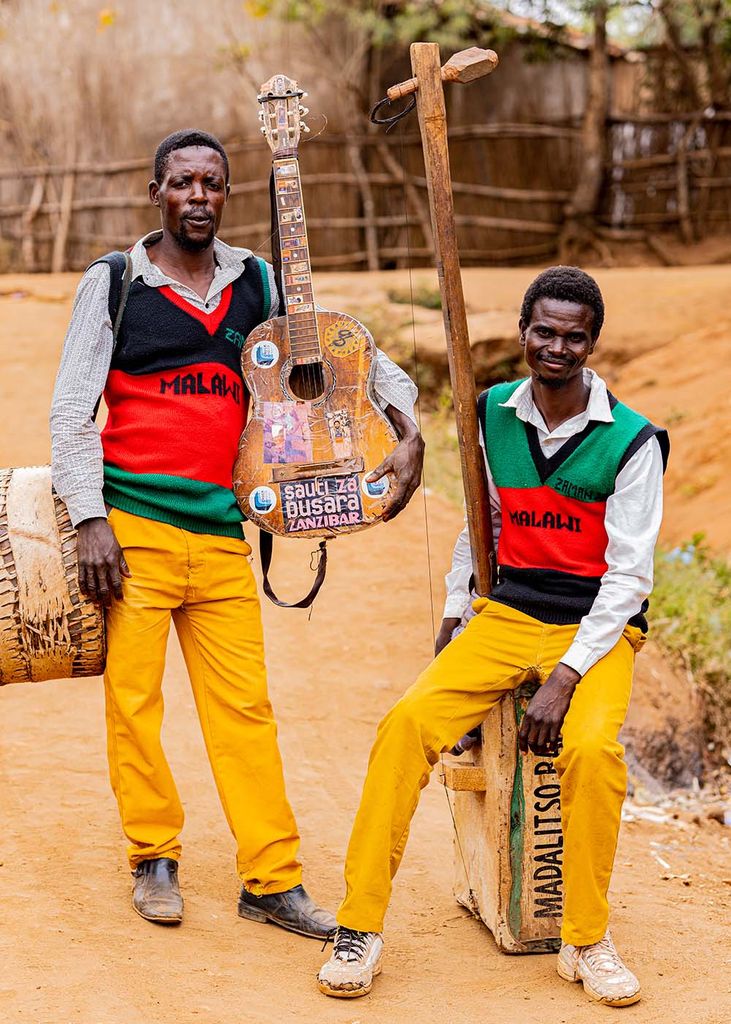 And there is a group of performers with deep local roots, the Kingfisher Singers and Dancers, Native Americans from the Aquinnah, Mashpee and Herring Pond Wampanoag communities, living in Massachusetts and Rhode Island. The festival had another Native American group in previous years, and their presence is a kind of de facto land recognition — "it makes sense that it's done by the stewards of the land themselves," says Abe.
And, she says, having a local band on stage is no contradiction for a festival that bills itself as global.
"It's part of our mission statement to challenge the assumption that global means overseas or international," says Abe. "To me, Global is about the dynamics and interrelationships between different places on the globe – and Boston is a global city, isn't it? It's about those dynamic relationships and those stories.
"It's really important to have an authentic representation by tribal members of an authentic culture," says Elizabeth Perry of Kingfisher, a member of the Aquinnah Wampanoag. "Education is really important, because I don't think the natives of the Northeast have particularly high visibility in the region."
Perry has been involved with her tribe all her life and grew up surrounded by friends and family members who are also tribal members. "I have been a tribal cultural educator – tribal artist, speaker and performer – for most of my life," she says. "So for decades I've been active in the New England area, and these are the lands I know and the waters I care about."
Kingfisher will sing at the festival and may also dance, depending on logistics. Many of their songs embody the basic Native American principle of being part of nature.
"There are songs honoring the robin in the spring, and the dance moves actually mimic the bird," Perry says. "All of them have elements that essentially express connection and recognize the importance of the rest of creation and respect for life, and giving back through the gift of your voice, the gift of song."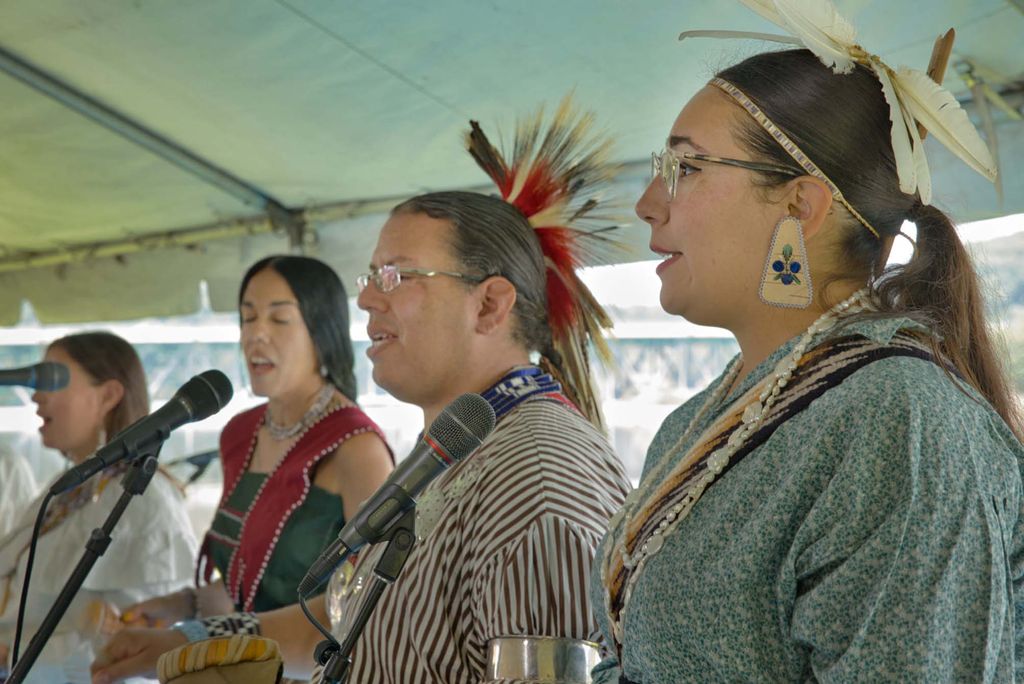 Perry's works have been exhibited at the George Sherman Union as well as places like the Fruitlands Museum and the Peabody Essex Museum. Through her visual art and her music, she aims for understanding.
"If my works can be positioned in a way that people stop, look and read, and then look out a nearby window, they can begin to make connections, connect to the earth and connect with native people," Perry said. "Anything that can start a meaningful dialogue and allows people to think about how they can take care of their little piece of land, I think that's positive. I think it's the opposite of erasing, dehumanizing, minimizing and overwhelming.
The traditional songs Kingfisher will sing are as relevant today as they were hundreds of years ago, she says, and "new songs are being written all the time and performed as well. We are part of a living, breathing and growing culture. Having the chance to share your culture with other people piques curiosity, shows creativity, shows commonalities. Everyone has music. Everyone has dance. We are all human beings.
Between the high-energy acts and more traditional music, says Abe, there's Qwanqwa, a supergroup of Ethiopian musicians mixing vernacular styles with modern sounds, and the eccentric pop duo Puuluup from Estonia, who play traditional instruments." but they update it". with lots of pedals and loopers, and they're quirky as hell and they're fun.
The festival is produced by the BU Arts Initiative and the Department of Musicology and Ethnomusicology at the College of Fine Arts School of Music, with additional support from several other BU departments and programs.
This year, the festival has also doubled the number of artists' workshops, to four, says Abe, "so there's a better chance for people to go talk to them and touch their instruments if they let you pose. questions about music. It's a good opportunity to take a look at the places you've only read or seen on the map, and to interact directly with the musicians.