Gbagyi music: how competitive can it be on the world stage?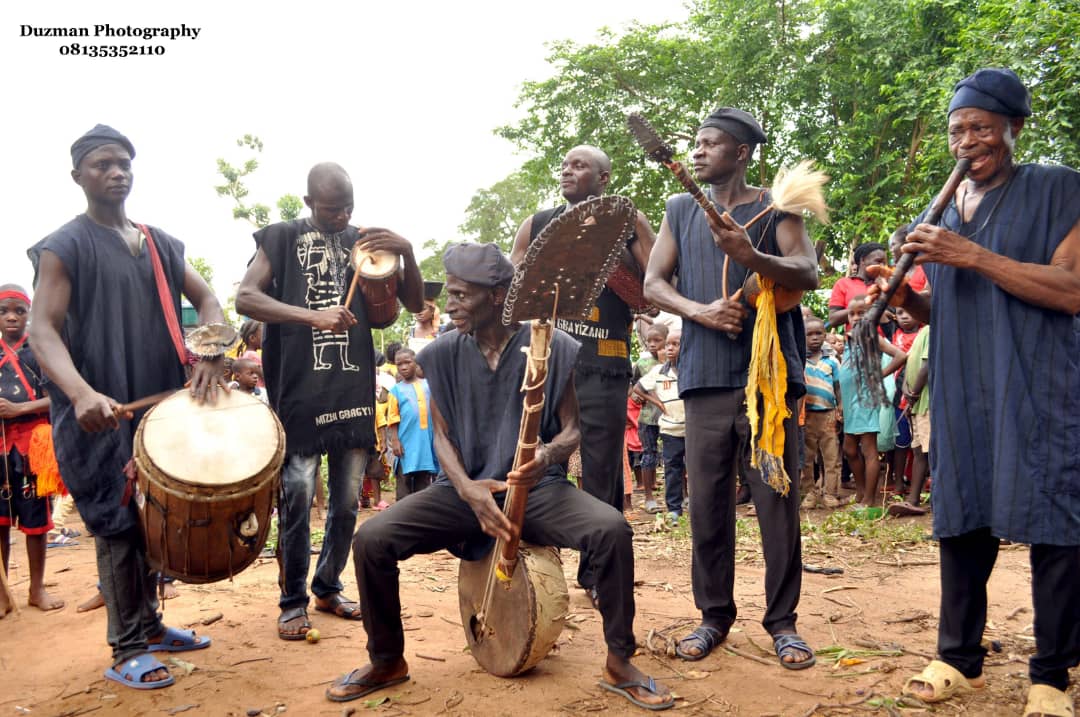 Gbagyi music is that which is done on the various traditional Gbagyi musical instruments which produce these distinctive rhythms which cannot be confused with any other genre of music.
By Alex Byanyiko
Music is a universal language. It does not matter the language or the instrumentation used. When done well, and it has a nice rhythm, people will love it and dance or nod.
There is no single genre of music that appeals to everyone on earth. While some are more generally accepted, others are more liked by a certain group of people.
– Advertising –
Most genres of music started from a certain part of the world. For example, rap music, which happens to be my favorite genre "began at block parties in New York in the early 70s, when DJs started isolating drum breaks from funk, soul and disco songs and to extend them. At that time, it was "local" for the inhabitants of New York. In fact, rap was initially dismissed "as a fad until it proved its commercial viability in 1979 with the release of Sugarhill Gang's 'Rapper's Delight', then in 1980 with Kurtis Blow's 'The Breaks'. a top 5 hit that ended up going gold.
Just over 40 years after its "invention", rap is now a worldwide phenomenon, enjoyed by all kinds of people of all races, religions, ages and social classes.
Rhythm and Blues, popularly known today as R&B song, is believed to have originated in African American communities in the 1940s. Then this genre of music was "local" to African Americans until it "exploded into urban centers like New York, Chicago, Detroit, Philadelphia and Los Angeles – all of which had seen an increased presence of black Americans due to the Great Migration".
I remember in the early 90s when I started to like music, R&B was also popular all over the world. Today, there are billions of people around the world who enjoy R&B without having a clue where or when this genre of music was born. Today, R&B is international. A few decades ago, it was "local".
– Advertising –
High Life is a genre of music that I bet most of us here in Nigeria, born in the late 70s, through the early 80s and 90s, would think of as originating from the eastern part of the Nigeria by the Ibos. However, this very popular music "was born in Ghana at the end of the 19and century, then spread to western Nigeria and flourished in both countries in the 1950s".
READ ALSO
Fireboy DML spotted with music legend Madonna
Banky W absent as wife, Adesua Etomi releases music video
Anyone old enough to have listened to and enjoyed the music of conductor Stephen Osita Osadebe, a man from Anambra State, Nigeria, would probably have believed that he had "invented" highlife music or, at least, that he was one of the inventors of this kind of music. There was a time when this kind of music was "local", today it is international.
This is not a research work on the origin of the different musical genres as we know them today, but I have taken my time to bring all these examples just to make you understand that each musical genre was 'local' at one point before gaining acceptance, nationally and then internationally.
Many of us over 30 would remember that foreign music like rap, R&B, pop, reggae, rock and roll, soul and others dominated the airwaves across the world, including including Nigeria, until now Nigerian music is also a global commodity. .
There was a time when Nigerian artists were considered "local" and Nigerians preferred to bring in foreign artists like Jay-Z, Queen Latifah, KC & Jojo, Boys II Men, Soul For Real, TLC, Angie Stone, Aliyah, Brownstone, Escape and others like it on exorbitant fees while treating their own Nigerian artists like garbage. This self-deprecating attitude continued until legendary Kehinde (Keke) Ogungbe and Dayo (D1) Adeneye founded their famous Kennis Music in 1998 and today Nigeria boasts music icons like 2 Face Idibia, Davido, Simi, Tiwa Savage, Yemi Alade, P Square (who later parted ways) and the list keeps growing.
Today, Nigerian music is commercially successful worldwide to the point that many foreign artists want to have a Nigerian artist or flavor on their songs. It happened because good leaders realized it could be done, and they took deliberate steps to make it happen.
Coming home with my perspective, this is the music of the Gbagyi people: a tribe large enough to have occupied 4 states in Nigeria plus the Federal Capital Territory, Abuja, cannot be considered small .
If you have met two or three Gbagyi in your life, you will agree with me that they are beautiful and talented in many ways. They have an incredibly creamy and rich culture and tradition, but they watch their traditional music die without any serious attempt to save it.
On many occasions, our elites just come to talk, pontificate and explain why it is important for us to cherish our history, culture and traditions, and yet they barely put their money where they say!
Most of the time, I wonder if some of them really believe themselves when they speak.
There are many issues, but here I want to focus only on the heartbreaking neglect of our Gbagyi music. And please don't tell me you have a lot of Gbagyi songs on your iPhone, tablet, computer and other fancy audio devices. Tell me the last time you invited a Gbagyi musician to your wedding and/or other ceremonies – how much did you pay them? They sing and you all dance and enjoy their music, but have you ever cared how many music albums they have in the market? If you had opportunities every year for ten years, would the money you pay these Gbagyi musicians be enough to get them into the studio, record a good song, shoot a world-class music video and promote it ?
I have been on some occasions where Gbagyi musicians have been invited altogether, but barely had enough time to perform. What could be more demoralizing than that? I've even heard people say "just buy them beer or palm wine and give them little transport and they'll come and perform".
Does one then wonder why we have so few Gbagyi musicians today? Do we wonder why our young people are almost never interested in playing all the beautiful traditional Gbagyi musical instruments?
And please don't point fingers at Shekwolo 'Mr. Sheks and many more like him. They may be gifted musicians, but they don't sing Gbagyi music. They just sing any kind of songs, sometimes in Gbagyi. The fact that they are Gbagyi and sometimes sing in Gbagyi does not qualify them to be Gbagyi musicians. Gbagyi music is that which is done on the various traditional Gbagyi musical instruments which produce these distinctive rhythms which cannot be confused with any other genre of music, just as a rap song cannot be confused with R&B or pop.
Some of us are so ignorant that they classify these songs as "local". Well, I believe we can now understand that everything we see today – every work of art, technology and science started locally, before being universally accepted.
While cultures and traditions are dynamic just like human nature, we have to maintain certain aspects of our culture, especially our arts, and also consciously project them into the world, then it can become a universally accepted work of art for everyone's pleasure.
Music is one of the main means of promoting culture and tradition. And I listened to a lot of Gbagyi musicians. Their songs are lyrically rich and deeply poetic. To make them more appreciable, just perform these lyrics on the videos for those who don't understand the language. I am convinced that the way many of us in the north enjoy and sing Yoruba, Igbo or Hausa songs the same way we can get others to enjoy Gbagyi songs. After all, most of them have a beautiful rhythm, their voice is so captivating and the Gbagyi dance steps are one of the most unique and refreshing in the world.
I choose not to talk about the fact that most of our Gbagyi musicians are uneducated, because there are many iconic artists in the world who are uneducated as well.
Although my thoughts on this are not exhaustive here, I would like to end this piece by challenging each of our elites, and in fact all of us… It is possible to add value to our Gbagyi music in the way which we deal with musicians and their arts. It is possible to rise to the level where Gbagyi music can be universally celebrated and can compete favorably with any other type of music in the world.
We all need to understand that the value we place on our music and our musicians equals the value we place on ourselves as a people.
If Ladi Kwali could become a world famous figure by creating his pots "locally", many of our musicians can also become world famous artists. And they can, without falsifying their music with strange instrumentation in the name of "modernization".
We need to be comfortable with our music in front of others, love and cherish it, support and promote it, and we'll see it become international, from a local perspective.
---