FBI, CISA Ransomware Alert Warns of VP Targeting Educational Organizations – Campus Technology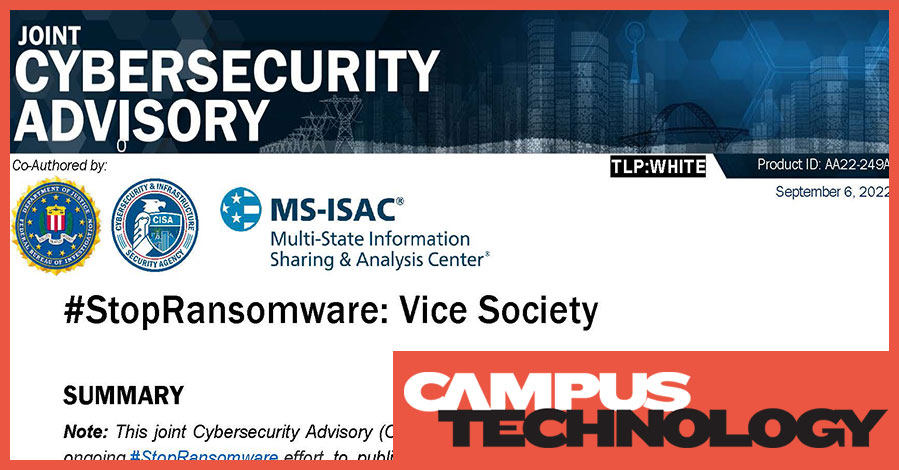 Security
FBI, CISA Ransomware Alert Warns of Vice Company Targeting Educational Organizations
By Kristal Kuykendall
06/09/22
a joint Cybersecurity Consulting released today by the FBI, the Cybersecurity and Infrastructure Security Agency and the Multi-State Information Sharing and Analysis Center warns that Vice Society threat actors are disproportionately targeting the education sector as recently as this this month.
This so called #StopRansomware advisories describe observed tactics, techniques, procedures and indicators of compromise to help organizations protect against the latest ransomware threats.
"The FBI, CISA, and MS-ISAC anticipate that attacks may increase at the start of the 2022/2023 school year and that criminal ransomware groups perceive opportunities for successful attacks," the advisory states, adding that organizations with limited cybersecurity capabilities and limited resources are often the most vulnerable, but the opportunistic targeting often seen with cybercriminals can still put those with robust cybersecurity programs at risk.
The notice includes technical details of the Vice Society's TTPs, using the MITER ATT&CK® Enterprise Framework, Version 11. The technical details included in the notice are as follows, taken verbatim from the report (each of which is further explained in the Full PDF of the review):
Vice Society is an intrusion, exfiltration, and extortion hacking group that first emerged in the summer of 2021. Vice Society actors do not use a single-origin ransomware variant. Instead, actors deployed versions of Hello Kitty/Five Hands and Zeppelin ransomwarebut may roll out other variants in the future.
Vice Society actors likely gain initial network access through compromised credentials by exploiting web-accessible applications [T1190].
Before deploying ransomware, actors spend time exploring the network, identifying opportunities to increase access, and exfiltrating data. [TA0010] for double extortion – a tactic by which actors threaten to publicly release sensitive data unless a victim pays a ransom.
The Vice Society actors have been observed using various tools including SystemBC, PowerShell Empire, and Cobalt Strike to move sideways. They also used "living off the land" techniques targeting the legitimate Windows Management Instrumentation (WMI) service [T1047] and tainting shared content [T1080].
Vice Society actors have been observed exploiting the PrintNightmare vulnerability (CVE-2021-1675 and CVE-2021-34527) to increase privileges [T1068]. To maintain persistence, criminal actors have been observed leveraging scheduled tasks [T1053]creating undocumented autostart registry keys [T1547.001]and pointing legitimate services to their custom malicious dynamic link libraries via a tactic known as DLL sideloading [T1574.002].
Vice Society actors try to evade detection by passing off their malware and tools as legitimate files [T1036]using process injection [T1055]and probably use evasion techniques to thwart automated dynamic analysis [T1497].
Vice Society actors have been observed increasing privileges and then accessing domain administrator accounts and running scripts to change victims' network account passwords to prevent the victim from remedying.
The advisory also lists specific indicators of compromise such as email addresses, TOR addresses, IP addresses, and file hashes that IT professionals should monitor, shown below.
Mitigation recommendations make up the last three pages of the advisory, along with a reminder that "all organizations should report incidents and abnormal activity to CISA's 24/7 Operations Center at [email protected] or (888) 282-0870 and/or the FBI through your local FBI field. State, Local, Tribal, and Territorial (SLTT) organizations should report incidents to MS-ISAC (866-787-4722 or [email protected]). When available, please include the following information about the incident: date, time and location of the incident; Type of activity; number of people affected; type of equipment used for the activity; the name of the company or organization submitting the request; and a designated point of contact."
The notice points out that the FBI is looking for "any information that can be shared, including demarcation logs showing communications to and from foreign IP addresses, a sample ransom note, communications with Vice Society actors, bitcoin wallet information, decryption files and/or a mild sample of an encrypted file."
Finally, he advises against paying a ransom: "The FBI, CISA, and MS-ISAC strongly advise against paying a ransom because paying does not guarantee that victims' files will be recovered. Additionally, paying may also encourage adversaries target other organizations, encourage other criminal actors to engage in ransomware distribution and/or fund illicit activities."