Cheez-It and Pandora Team Up to 'Sonic Age' R&B Music Crackers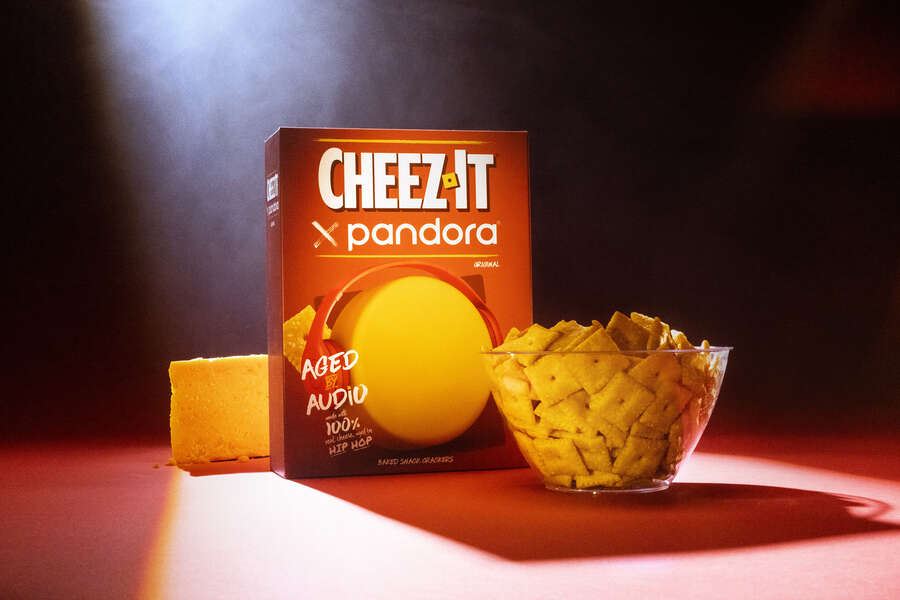 There's just something about 90s R&B that heals the soul. And apparently it also intensifies the flavor. Cheez-It has "sonic aged" its new crackers in a Pandora-curated playlist featuring hip-hop's most iconic players.
In a study conducted by the Bern University of the Arts in Switzerland, researchers found that aging cheese to hip-hop music can "enhance taste and smell." Which, naturally, inspired the brand to give it a shot.
"After six months in the making, we're thrilled to finally share this absurdly delicious collaboration with our fans," Chief Marketing Officer Erin Storm said in a press release. "Our innovation team is always exploring new ways to provide more unique experiences for our fans, and Cheez-It x Pandora Aged by Audio is the perfect way to provide our dedicated fans with a truly one-of-a-kind snack while celebrating the joy that music brings."
Cheez-It x Pandora Aged by Audio Crackers, which will be sold exclusively through Cheez-It's online store beginning May 26 at 12 p.m. EST, have been aged to a quality blend of A Tribe Called Quest, LL Cool J, The Roots, Beastie Boys and Snoop Dogg for six and a half months. The entire playlist will be released with the crackers later this month so you can experience the same tunes as your snack.
"This collaboration is the perfect blend of my favorite things: hip-hop music, wild innovation and Cheez-It," SiriusXM radio host Sway Calloway said in the statement. "Hip-hop has influenced many lives, so I can't wait to see if fans can taste the effect of the world's most beloved genre of music on these crackers."
Want more Thrillist? follow us on instagram, TwitterPinterest, YouTube, TikTok and Snapchat.
Megan Schaltegger is an editor on the News team at Thrillist.